Since 1985, Emiliana Conserve has been located in Busseto, in the province of Parma, in the heart of Italy's Food Valley. The Busseto plant produces all formats in glass, tubes, and tins for the retail market. With around 260,000 tonnes of freshly-processed tomato sauce per year, the company is the largest producer of tomato derivatives for the most prestigious brands in Northern Italy.
The Busseto plant required the experience and expertise of BBM Service to speed up the format change operations on the bottling lines. As the customer often needs to change bottle size and package shape, it was of primary importance to be able to guarantee greater speed and flexibility in the process.
BBM's specialist technicians modified the folding flaps and fitted a rotary cylinder to close the flaps without the need for mechanical changes. In addition, an adjustable side panel unit was fitted to the infeed. All of this has been done to facilitate the format change without the need for special tools – simple knobs with counter reference only, with which the operator sets the position of the various components. The knobs and counters are ideal to guarantee the correct position of the sideboards, always having a precise numerical reference.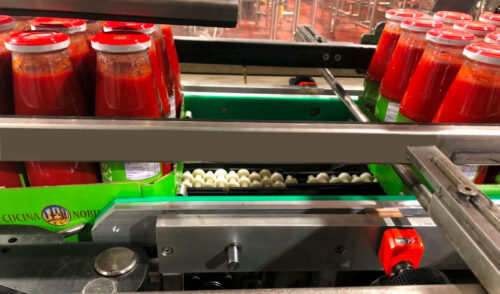 The upgrade was carried out on a shrink wrapping machine that provides film, layer pad and tray packaging; the adjustment is applicable to all three passes. In addition, a pass plate was also replaced and modified for easy tilting. On other occasions, BBM Service has dealt with similar operations on other machines of the line, such as labellers and cartoners: with the right study, it is possible to carry out a simple intervention, which does not require more than a week of work, in order to save time and energy in each subsequent format change operation.
The result is an optimised line, where technical operators are able to carry out a size changeover in a few simple steps, without the need to calibrate sizes and widths each time. We would like to thank the staff of Emiliana Conserve for their helpfulness on site.