In January 2021,  Sorgente Valcimoliana S.r.L. contacted us to carry out the installation of a new PET line, for new production and market requirements.
The company had already chosen BBM Service in 2016 for the engineering of the glass and PET line, the supply of new belts and the installation of a case packer and shrinkwrapper with used and overhauled trade electronics. Once again, the validity of the technical project and the positive outcome of the previous jobs meant that BBM Service was chosen from among other proposals.
After an initial inspection by our specialist technicians, an area of the site was defined to insert the new line. The space was obtained by removing a disposable glass line and modifying a PET 2 line currently in production. The layout of the PET 2 line was completely overhauled to optimise the production space.
The work began with the conservative dismantling of the VAP line. Once the necessary space was freed up, we were able to proceed with the assembly of the PET 3 line, which has a nominal speed of 16,000 bph with two 1500 ml round bottle formats and one 2000 ml square bottle format.
The supply of the line consists of: a Sidel MATRIX SBO10 blow moulding machine, a Procomac filler, a Z-Italia labeller, an SMI dynamic divider, a BBM electronic shrinkwrapper, a Smipack HA handle applicator, an ACMI P130 palletiser and a Bema wrapper. In addition, BBM supplied the air belts, channeled bottle conveyors and bundle belts, as well as the line's electrical cabinet. The supply was prepared during the spring and summer, while in September 2021 work began on dismantling the glass line, an operation that took two weeks. Two months after, production can be considered effective.
We would like to thank dott. Gilberto Zaina and his team from Sorgente Valcimoliana; all Tarotrans staff for the punctual logistics transport operations; Meccanica Italiana S.r.L. for the supply of moulds, LogiCo SrL for the automation of the electrical panel and belt management, Imtec srl for the management of the palletising and pallet wrapping, Z-Italia S.r.L. or the formats on the labelling machines and Heuft Italia SrL for the supply of product control systems. We would also like to thank all the Acqua Dolomia and BBM Service technicians for their work.
Line PET 2 before modification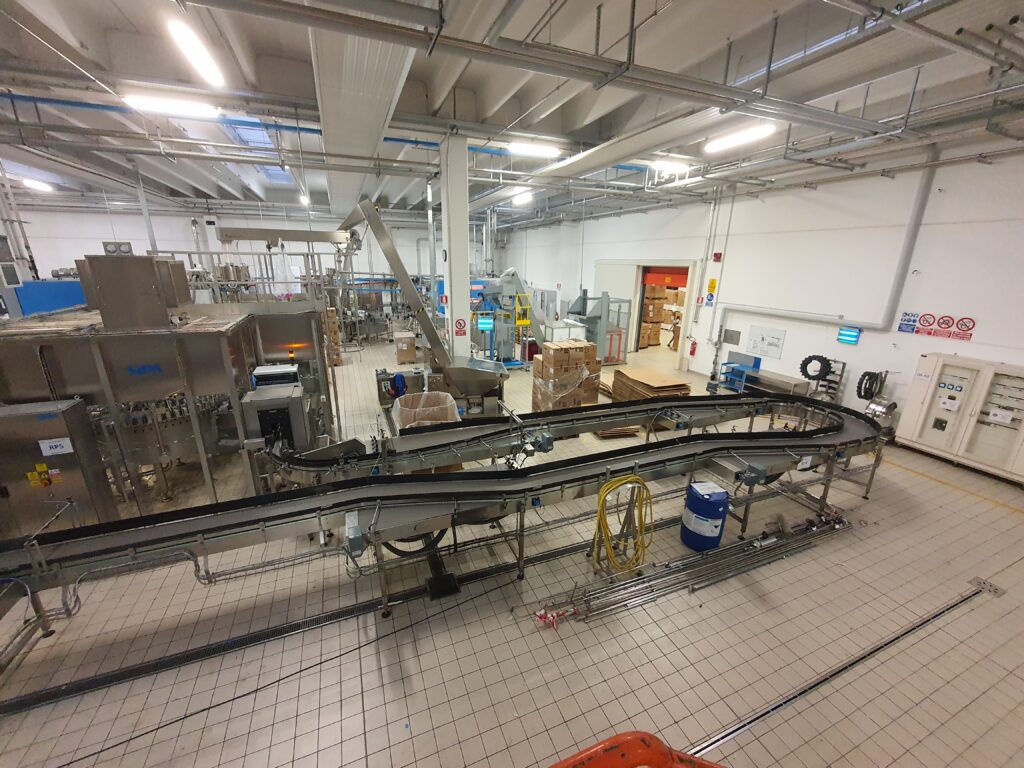 Line 2 PET after modification
Line 3 PET