2023 has just begun; we would like to share with our business partners and customers the key figures of BBM Service, which has been able to overcome the health emergency over the past two years, thanks – above all – to the dynamism and resourcefulness of its employees.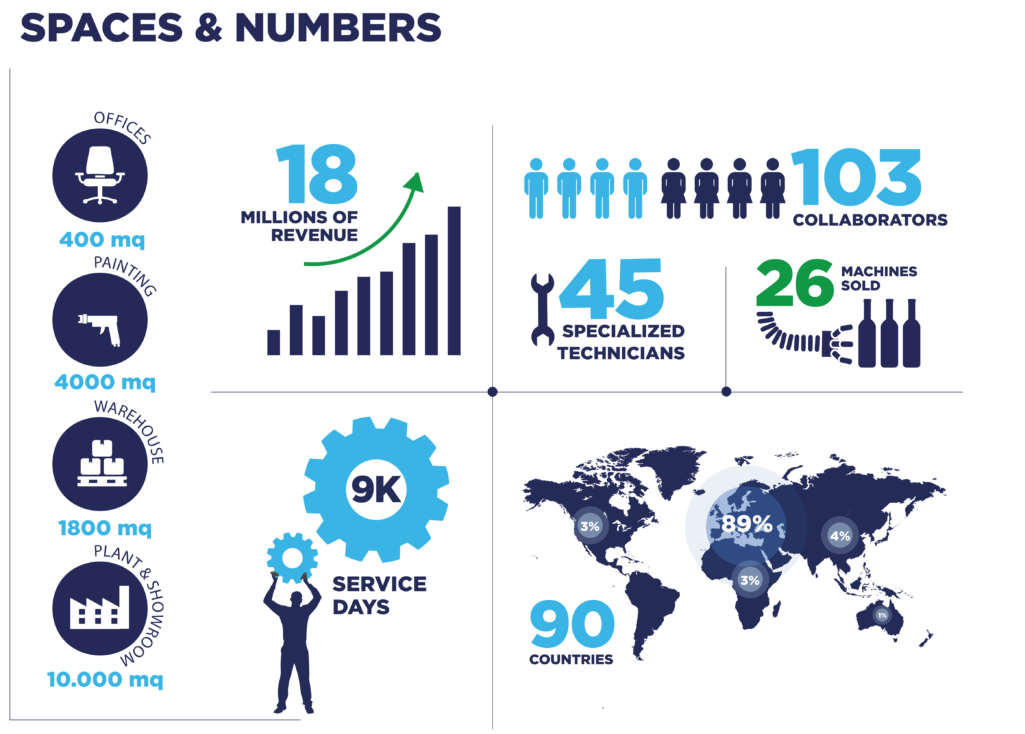 2021 was a year of recovery compared to the previous one, with service levels of around 9,000 man-days, mainly carried out in Italy. For years, the turnover generated by service and the sale of spare parts compatible with the major brands in the packaging industry has been growing steadily; in 2022, however, the international socio-political situation caused the turnover to stay still, settling at around €18.5 million.
On a structural level, 2022 saw the expansion of the San Pellegrino Terme production area and the presentation of a project for the renovation of the offices, and the installation of Vertical Warehouses. Vertical Warehouses are meant to become innovative solutions for the automatic storage of goods. In 2022, the the Lenna production centre was expanded for a total of over 3400 m².
We have also reached the 100-employee quota: the BBM group has grown to 103 employees, a number we expect to grow with the growth of BBM's activities in Italy and abroad.
Goals for the future. The spare parts sector, which is confirmed as number one in terms of sales, will be implemented with a new e-commerce platform aimed at promoting BBM's compatible spare parts.
In 2023, a 100kWp photovoltaic system will be installed at the Lenna (BG) plant, in addition to LED lights and high-efficiency underfloor heating. The adoption of new and energy-efficient technologies confirms BBM's direction, which is increasingly oriented towards the pursuit of environmental sustainability practices. In this sense, one of the main goals for 2023 is the drafting of BBM's first sustainability report, a document aimed at informing customers and suppliers of the economic, social, and environmental results generated by the company.
At the same time, BBM's future agenda includes a set of best practices for safeguarding the well-being of its employees. One of the main objectives will be to invest in BBM Service's human capital, by keep promoting training courses for our professionals. We want to give our employees the opportunity to invest in themselves and to grow personally and professionally.