Our team of technicians dismantled a 16,000 bph water bottling line in just two days
Dismantling a line and moving all machinery requires an enormous amount of time and resources. Dedicated and specialised personnel are needed to follow the different stages of the project and to organise all the logistics and technical details relating to the moving of the machinery. Outsourcing this activity, to a company that guarantees that the work will be carried out according to the previously agreed Gantt, is essential. This is a delicate job, which is why it is very important to entrust the move to a specialised company with expertise in the field, which can guarantee you constant technical support and can manage the entire service independently, from planning and management of the activities to the organisation of the lifting and transport equipment. Our company can support the customer for any of his needs, we are structured to be able to offer the customer a 360° service, both in terms of skills and workforce and equipment.
Bracca Acque Minerali S.p.a., a famous water and beverage company in Bergamo hinterland, needed to dismantle and relocate its 16,000 bph water bottling line in 2-litre square bottles, to make room for a new line with higher performance and in line with new production requirements. Bracca, our long-standing customer for more than ten years, chose our company to manage all the machinery handling. The customer needed to dismantle the equipment in just two days, and our company, with its team of over 50 qualified in-house technicians, was able to guarantee the work in just 48 hours, while maintaining the high quality and precision of the service provided. We have worked alongside our customers to find the ideal solution to their specific needs; we do not offer standard services but try to design our interventions around their specific requirements and needs.
Our technical department took care of the technical audit to define and plan the different phases of the project, assessing risks, time and the number of technicians needed for the various activities, and then proposing the gantt to the client for final approval. For this project, we involved our 36 technicians who worked continuously, 24 /24 hours, alternating in two teams. Before preservative disassembly, our technicians backed up the software of all the machines to ensure that no data was lost. They then started to disconnect and decouple the machines, separating the individual machines that made up the line, and then continued with the actual dismantling of the conveyors, machinery and all components. All the equipment and machinery, which had to be relocated and moved from the plant, was duly packed, in special cages or wooden crates custom-built on-site, depending on the size. Our logistics department then took care of transport management and our handling equipment. We involved 4 forklifts, 1 aerial work platform, 1 crane, as well as a standard truck and one with exceptional permits.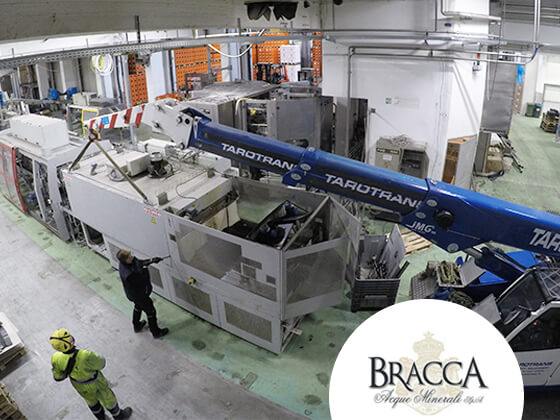 The customer was very satisfied with our work, as in just two days we achieved what we had promised, namely the dismantling of a line from the blow moulder to the palletizer. In total, we moved 7 machines, as well as air, bottle and bundle conveyors and all accessory equipment. Only the shrink wrapper and palletiser were left in the plant, disassembled and disconnected, as agreed with the customer, everything else was transported and the whole area of the old plant was cleared. We also took care of the waste disposal ourselves, in compliance with all applicable regulations."An exceptional job, we have been working with BBM Service S.r.l. for years, but this time they really amazed us with their work and their unfailing professionalism" – underlines Luca Bordogna, Managing Director of Bracca Acque Minerali S.p.a. – "They had guaranteed us that they would be able to carry out the dismantling of our line in just 48 hours, and so it actually was. We already knew their experience and expertise in the bottling field, but they really outdid themselves with this job. They kept to the timetable and did an impeccable job.".
In this specific case, in addition to disassembling the machinery, our company also purchased the line, with certain and safe payments to our customer. The disassembled line has been taken to our plant in Lenna, where it will be completely overhauled, updated and modified, and then put up for sale with a 12-month warranty. "We are very proud of the partnership we are developing with Bracca, it is one of the most important players in the mineral water and beverage sector of Lombardy, a company that continues to grow and develop. We have been working with them for years, what we offer them and our customers is continuous support for their different production needs, offering quality services customized on their needs" concludes Giuseppe Boffelli, Managing Director of BBM Service S.r.l.